Our Lodging and Facilities
Our Main Lodge.
Situated in a private cove, IslandView Resort boasts its own dock on site and panoramic views of majestic mountain peaks and nearby islands. Although, this luxurious getaway feels secluded and remote, it's a mere ten-minute drive to downtown Sitka. Every room faces gorgeous waterfront views with access to large beachfront decks.  Each suite has a private jacuzzi hot tub overlooking the water.
This Alaska lodge has four fully furnished beach vacation suites that are perfect for families, reunions, and corporate group get aways. An additional private house is onsite for smaller groups of four to six guests. We can accommodate a maximum of 30 guests at our Sitka lodge.
Four spacious beachfront suites (each over 1600 sf)
Master bedroom with 2 full size beds & private bath
Two guest bedrooms each with a Double/single bunk bed
Second full size guest bath
Third guest half bath
Full size kitchen
Full size laundry room
Beachfront decks
Private hot tub for each three bedroom suite
Gas fireplace
BBQ grill
Free high speed internet & wireless connectivity
Cable Television with DVD/VCR
For more photos of the Main Lodge, see here.
Our Dock House.
Waterfront vacation rental (~1600 sf)
Master with bunk bed (single over double) & private bath
Guestroom with bunk bed (single over double) & additional twin
Guestroom with bunk bed (single over double)
Full shared bathroom in the hallway
Full size stocked kitchen
Full size washer/dryer
Beachfront deck
Gas barbecue grill
Cable Television with DVD/VCR
Custom Fish Processing.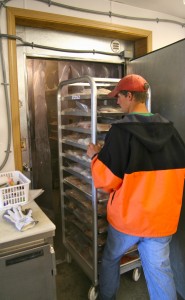 We care for your catch the moment it's reeled in. Our deckhands quickly bleed and gut each catch to preserve the quality of the fish. Coolers with ice shavings are on board each vessel to further ensure your fish is kept fresh. Once at the dock, the deckhands and processors set to work at filleting, custom cutting, rinsing and bagging your fish. Each group's catch is kept separate and labeled by the boat or angler as requested.
The IslandView processing facility, adjacent to our lodge, includes multiple vacuum pack machines and two walk-in freezers. Each vacuum bag is labeled for you to easily recognize once home.
At the conclusion of your trip, your catch is boxed up in wetlock boxes and delivered to the airport for you to check in as additional luggage. If your travel plans require additional days of frozen storage or Fed Ex shipment, this can also be arranged at our office ahead of time.
Our Coveside Shelter.
Just steps from our main lodge and dock house, overlooking our private dock, is a coveside shelter available to all our guests. We welcome you to relax around the outdoor fireplace and swap fishing stories at the end of each day. IslandView staff hosts an Alaskan barbecue dinner party for the entire lodge group once during their stay, usually the night before departure. Our coveside shelter makes the perfect venue for a memorable dinner.
Service is everything.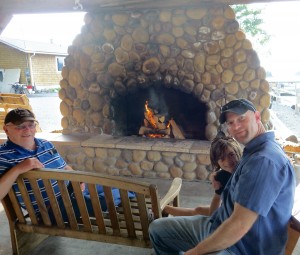 Maybe it's the way our hostesses smile and greet you each morning with a cup of coffee and hot breakfast. Perhaps it's our hard-working deckhands who bait your hooks and congratulate you on reeling in a nice keeper. How about the processor who stops by to ask your special requests in packaging and filleting of your fish, or the Lodge Chef who puts her heart into baking a cake for your birthday? Could it be the way your Captain spends extra time on the water or swings by the lodge after fishing and ends up enjoying a few hands of poker with your group? As our guest, we do all we can to make you feel welcome and appreciated. After all, this is your trip and you deserve nothing less than the best.
---